The Unique Benefits of Upgrading the Mail Center or Student Housing Reception Desk
with Digital Mailbox Capability Include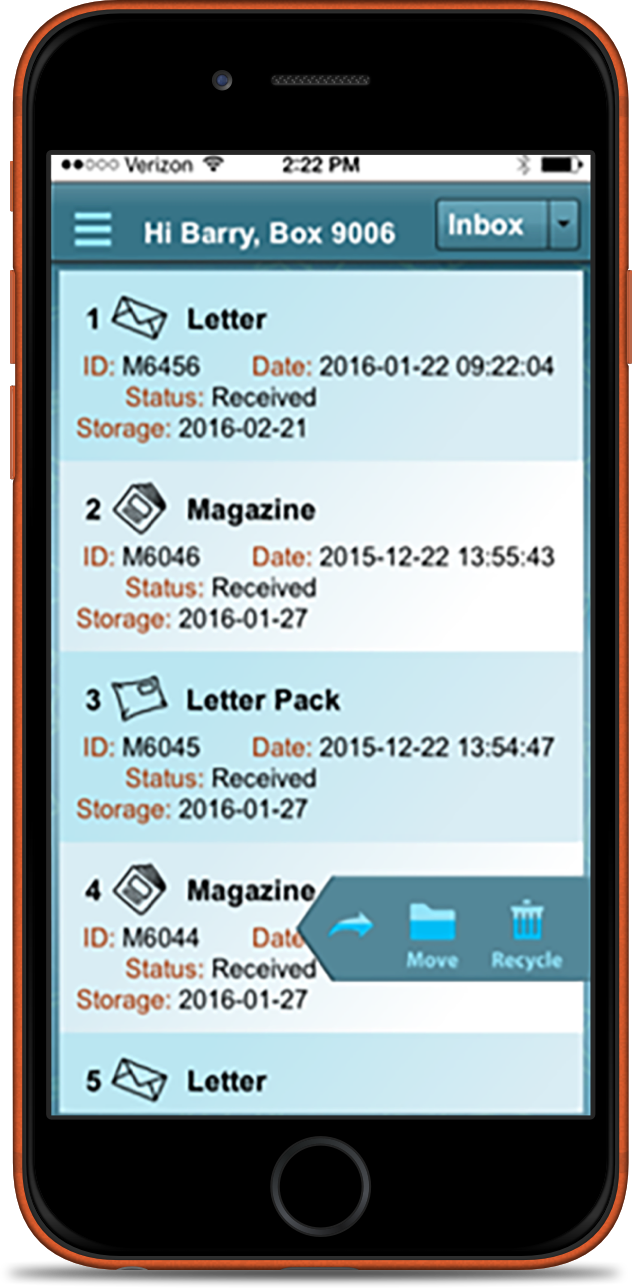 What is Digital Mailbox?
The Digital Mailbox is the way people want to manage their postal mail and packages – via an app or online, 24/7, from anywhere. Every mail recipient gets a secure, personal mailbox. The mail center gets admin back-end software that is seamlessly integrated with the user's Digital Mailbox, enabling 2-way communication.
Students see a picture of the outside of the envelope or package and manage mail from a menu of action steps. Unlike email, the Digital Mailbox is a controlled, secure mailbox environment.
The Mail Center is the gate-keeper. Just like an image of an envelope or package can be inserted, so can a PDF, enabling an entirely new digital messaging capability to replace printed matter.
Services
Your mail center or reception desk gets a full menu of service options with total flexibility to choose the capabilities you want, whether for packages only, mail only, or both. Digital Mailbox processes will work with whatever mail delivery model your college uses, from a central mail center, to student housing mail distribution, or any hybrid combination. The software platform is cloud-based, turnkey, with minimal hardware needed.
For packages, you get a complete system for receiving, put-away, recipient notification, and verified delivery. iCollegeMail offers an intelligent locker system for packages and mail at a significantly lower cost vs. current systems now available.
For mail, students with physical mailboxes can request that unwanted items be recycled and items they do want, such as mail from home, government documents, or subscription material, be 'put in box.'
For mail centers that want to eliminate physical mailboxes and move to a 'virtual mailbox' system, students can similarly discard unwanted items and schedule a pickup for the mail they do want. Mail centers also have the option to install compact intelligent lockers for mail pick up 24/7 that adds convenience for students and reduces lines at lines at the pick-up window.
Both the mail center and the student have access to a complete record of all mail items received and order history, so information can be quickly looked up if there are questions. The mail center can choose to add service options such as opening a letter and scanning the content as a PDF, or forwarding mail and packages, which enable students to manage their mail when away from campus on break or even studying abroad.
Getting Started
We take a consultative approach in working the college mail services.
We believe that all relevant parties should be included: the Mail Center, Housing – if mail is received there, and Auxiliary Services. This enables a holistic approach to determine what problems or opportunities need to be addressed and what type of solution will best meet the objectives of the mail services community.
We Follow a 3 Step Solution Process:
Discovery
Solution Identification
Implementation
Because our system is robust and flexible, we can easily and quickly customize a solution to meet your specific situation. Our service has minimal equipment requirements, and may be implemented in phases. iCollegeMail has solutions for faculty mail services as well.
A Better Experience for Students
When new mail or packages arrive, students receive a push notification in their smartphone and an email message. With mail notification, students will know when they get something important like a check or government documents and be sure to pick them up.
For perishable items, a priority flag can be activated, so flowers don't wilt and cookies from home don't go stale. Students know exactly what item they received by viewing the image in their digital mailbox, including sender information.
Students can use their app to request that mail they don't want be recycled and schedule a time to pick up their package – shortening lines and waiting time at the pickup window, as packages can be pre-picked and ready.
Students can take advantage of any other services that your mail center choses to offer such as scanning mail content, forwarding mail, or return to sender – even when they are away from campus, on break, or studying abroad.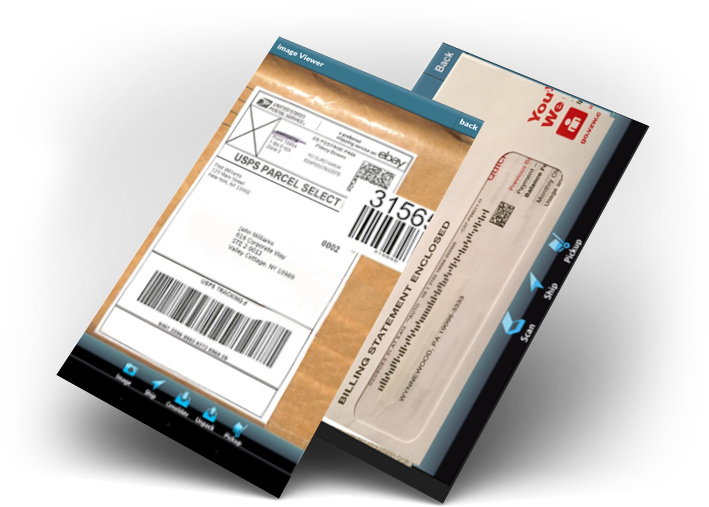 More Efficient Mail Center Operations
The mail center or student housing reception desk uses a smartphone Utility App to for package receipt, location put away, insertion to the recipient digital mailbox, and verification of delivery. The Utility App can also be used to insert letters. However, for inserting higher mail volume, a low-cost feeder scanner will insert 60 letters per minute using OCR (Optical Character Recognition) software provided by iCollegeMail.
Mail item tasks such as Discard or Put in Box appear on a To Do list in the back-end admin mail center software, allowing for quick and efficient processing of tasks, and capturing the mail and order history of every item received. This provides end-to-end chain of custody and full mail history.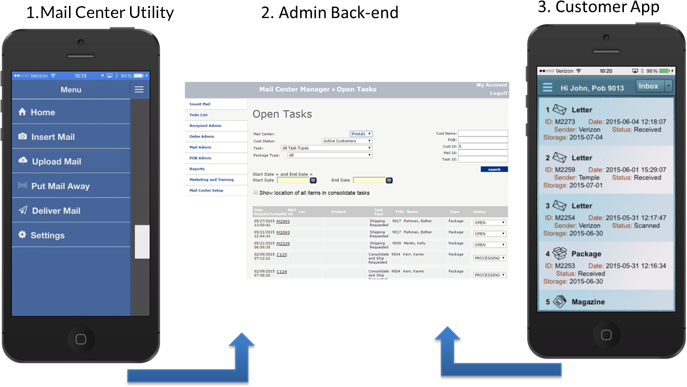 The Benefits to the Mail Center Are Many
Reduced lost package claims due to strong receipt/put-away/delivery verification process.
Opportunities to better manage the start of semester crunch by tracking put-away in any storage location and by enabling pre-picking of packages for scheduled pickups to speed up service and reduce long lines.
Cleaner mailboxes at end of semester and a system for handling unclaimed mail.
A turn-key system interface with existing intelligent lock er systems. iCollegeMail also offers a new intelligent locker system for packages and/or mail at significant savings vs. other systems available today.
A turn-key system that will support moving to a 'virtual mailbox system' to eliminate the need for physical mailboxes for each student. Save space and eliminate costly maintenance to replace lost keys and change over mailbox owner. Students can use the same virtual mailbox all four years.
Reduction in labor costs by replacing mailbox flyer stuffing with digital insertion as a PDF, and by converting 1st class pre-sort bulk mail to digital insertion.
Reduction in staff support time, customer frustration and misinformation related to USPS package delivery, as iCollegeMail will automatically update the USPS database to provide accurate delivery status: Pending, Student Notified or Student Delivered.
Sustainable Solutions for a Greener World
Opportunities abound to make quantum leaps forward in reducing paper usage and increasing recycling.
When students request that unwanted mail be discarded, those items are recycled by the Mail Center rather than winding up in the trash bin when students deposit them in the most convenient receptacle available.
Much of the 1st Class mail the students receive is pre-sort bulk. What if these mailers knew they could get their message to their target audience with a simple PDF insertion into their digital mailbox? Think of the reduction in paper – much of it never looked at and wasted.
Similarly, internal flyers or commercial advertising from companies can be converted to digital format with tremendous sustainability benefits.
New Opportunities for Revenue Generation
Utilizing mail services as a source of revenue generation is a strategic choice that each college must make. However, in an era of ever-escalating budget pressure, finding untapped revenue opportunities gets the attention of most auxiliary services executives.
The most exciting new opportunity is to offer digital messaging via PDF insertion that save money, save time, and enable reaching a highly coveted demographic efficiently and effectively.

Companies that want to recruit your students will now have an effective way to reach them with information on their company, employment opportunities, or campus recruitment events.
Advertisers in fast food, travel, books and many other categories that serve the college population, would value the ability to deliver their messaging and promotions via digital mail insertion.
Student identity is protected, as digital delivery may be targeted according to graduating class, major, gender or other generic demographic tags.
As the digital mailbox gatekeeper, the Mail Center determines just how much and what kind of digital messaging is inserted, or what type of opt-in choices students should have.
Other revenue generating opportunities include mailbox fees, new services for fee such as scanning letter content or mail forwarding, and package receiving for off-campus students.
Company
USZoom, LLC is the worldwide leader in providing Digital Mailbox software as a service (SaaS) solutions to mail centers in multiple industries. iCollegeMail, LLC is the division of USZoom that serves the college market.
USZoom currently offers the largest network of Digital Mailbox providers in the U.S. via its iPostal1 brand, with over 900 shipping stores across 40+ states. USZoom also provides Digital Mailbox solutions to executive office centers, corporations, apartment and residential complexes, as well as to assisted living facilities. USZoom, LLC is located in Valley Cottage, NY.